Walgreens is the best go-to place for your Eyes Lips Face (elf) fix, especially for their specialty makeup collections that are Disney inspired. In fact, I think you can only get them either at Walgreens or Rite Aid and it's only select ones on top of that! Which can be especially frustrating if you live in an area that usually doesn't carry the full collection (like me, ugh). So, I was very surprised to see an entire end piece of an aisle dedicated to the Disney elf makeup line.
I squeed, I fangirled, I needed all the things.
The beauty books are $10 each and comes with eyeshadow, lipgloss, eyeliner, blush, and bronzer. There are smaller kits of eyeshadow, eyeliner, and so on between $3 and $5 as well as individual items such as blushes, lip glosses, and powder. It is a wonderland of color that includes Pocahontas, Mulan, Belle, and Ariel. There might be more princesses in the collection but those were the ones my local Walgreens had in stock.
This particular review is for the Pocahontas beauty book and contouring stick I picked up but I also got a Belle face palette and Mulan beauty book--those will be reviewed in a different post. For now, let's paint with all the colors of the wind!
Pocahontas Beauty Book
The packaging for the beauty book is absolutely stunning! The artwork they choose for these Disney inspired collections is always so pretty and "artsy," usually with a watercolor look to them. Also, I like how the packaging for individual items fits with the beauty book and is an extension of Pocahontas' hair as you can see in the above picture.
My only two gripes about the packaging for the beauty book is that it can be difficult to close it. The other side of the page with the mirror has guide of a daytime and nighttime look you can recreate with the colors and since the mirror side of the page is heavier, it can make closing the book harder.
The other gripe is that the clear plastic protector for the actual makeup is non-removable unlike the other protectors in previous elf palettes. You have to essentially destroy the book in order to get it out. Shouldn't be an issue, right? Well, the protector is also not made to move out of the way like a book page--it wants to cling to that makeup! So when you go to apply an eyeshadow for example, that clear plastic coat will flip right back and you have to hold it while using your other hand. Talk about major multi-tasking.
Or, if you want to get real crafty, you could also try and cut out the protector and spray down the pans with a disinfecting spray if you don't like contaminating your colors.
With all that said about the packaging, the colors in this beauty book are downright
gorgeous
. If you're more into a boho chic look or neutrals that have a bit more pop to them than the typical taupe or beige, this might be the beauty book for you. I did think it was funny that all the colors have an interesting name tied to the movie, except it seems they got lazy when it came to the eyeliner and were like "Eh, just call it New World something. Hm...maybe smolder? Yeah, that'll work."
Here are swatches below on my arm with no primer or foundation put on beforehand.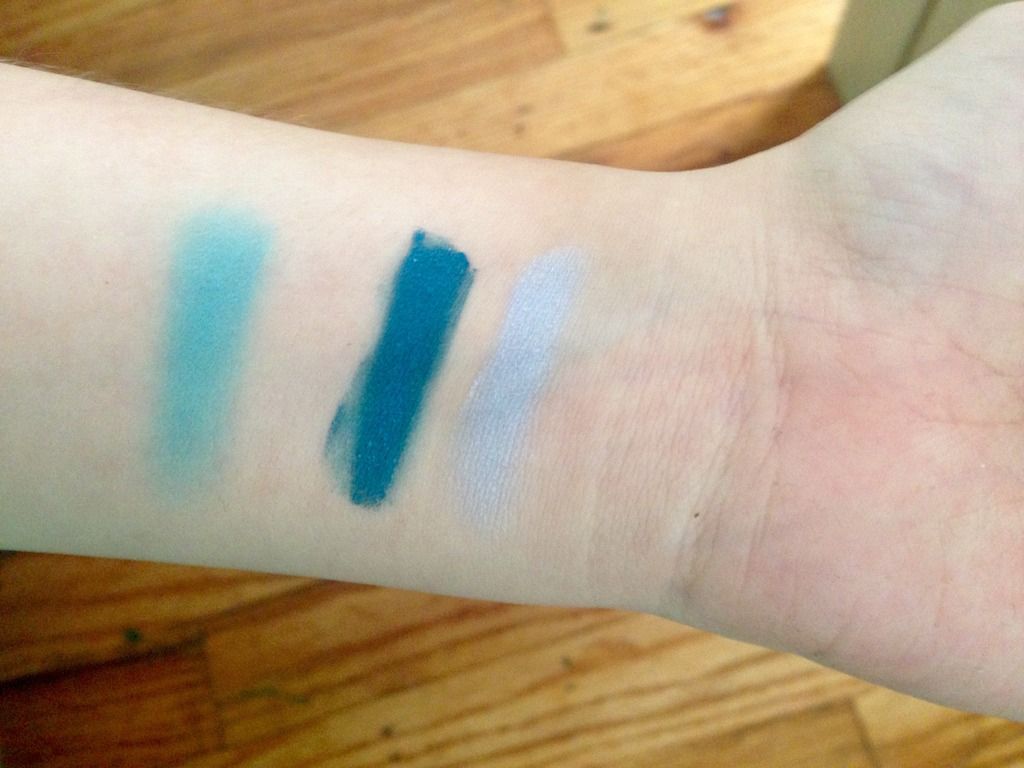 From left: Riverbend, Ripple, Dreamcatcher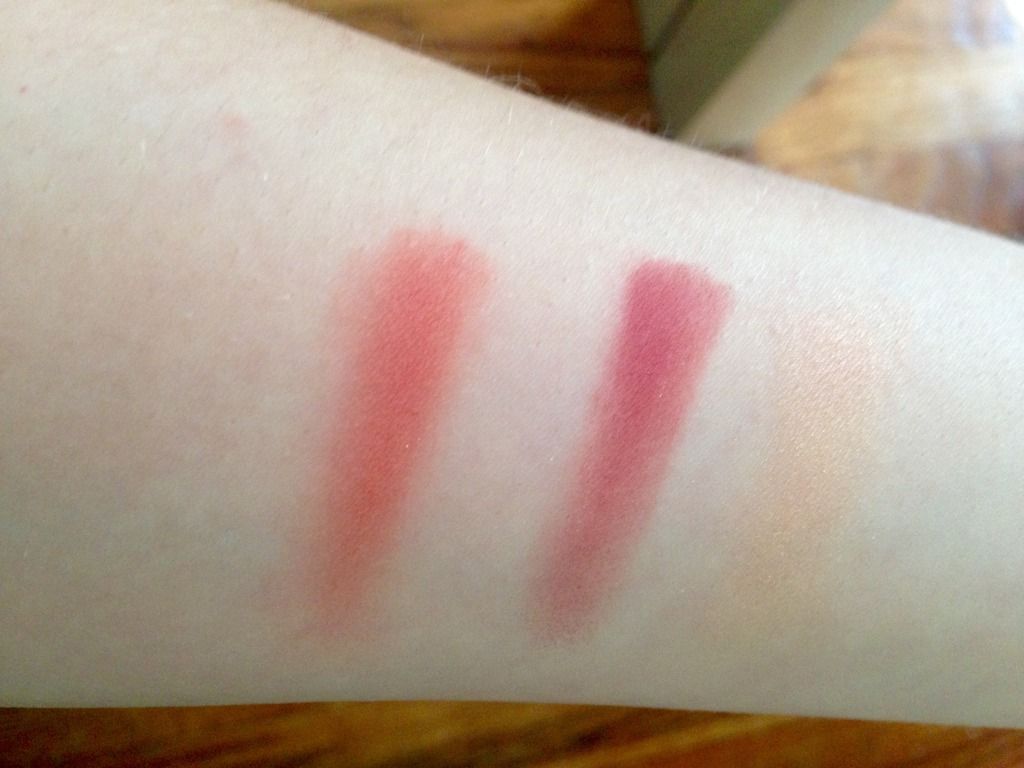 From left: Headstrong, Warrior, Wingapo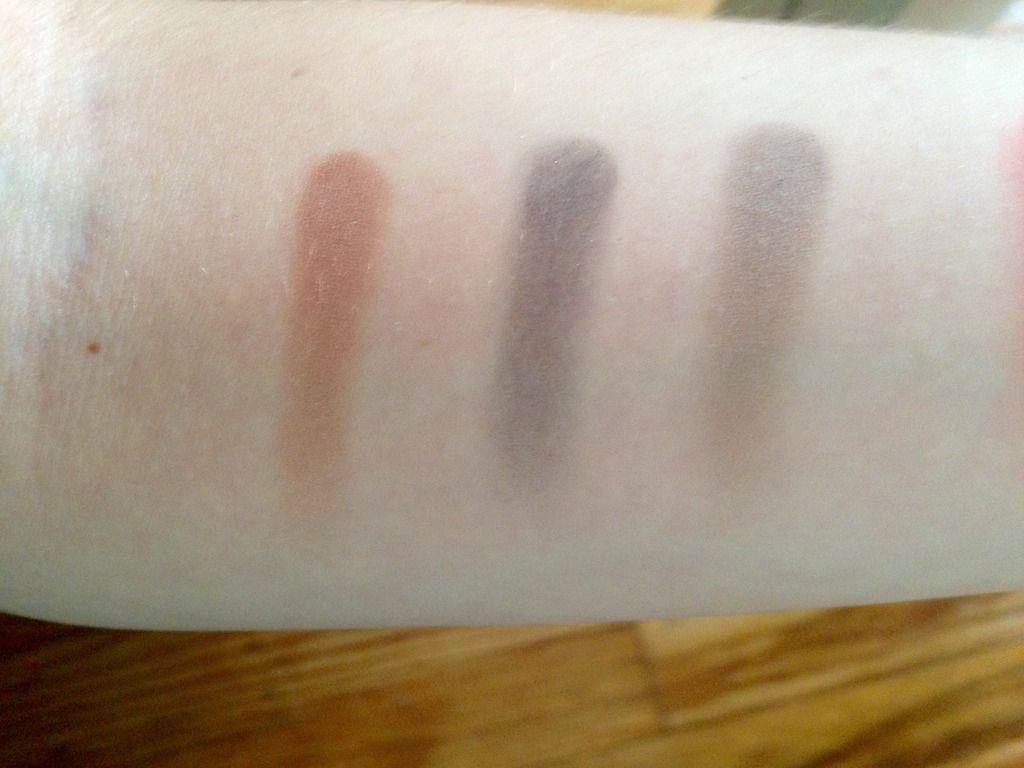 From left: Willow, Sycamore, Heroine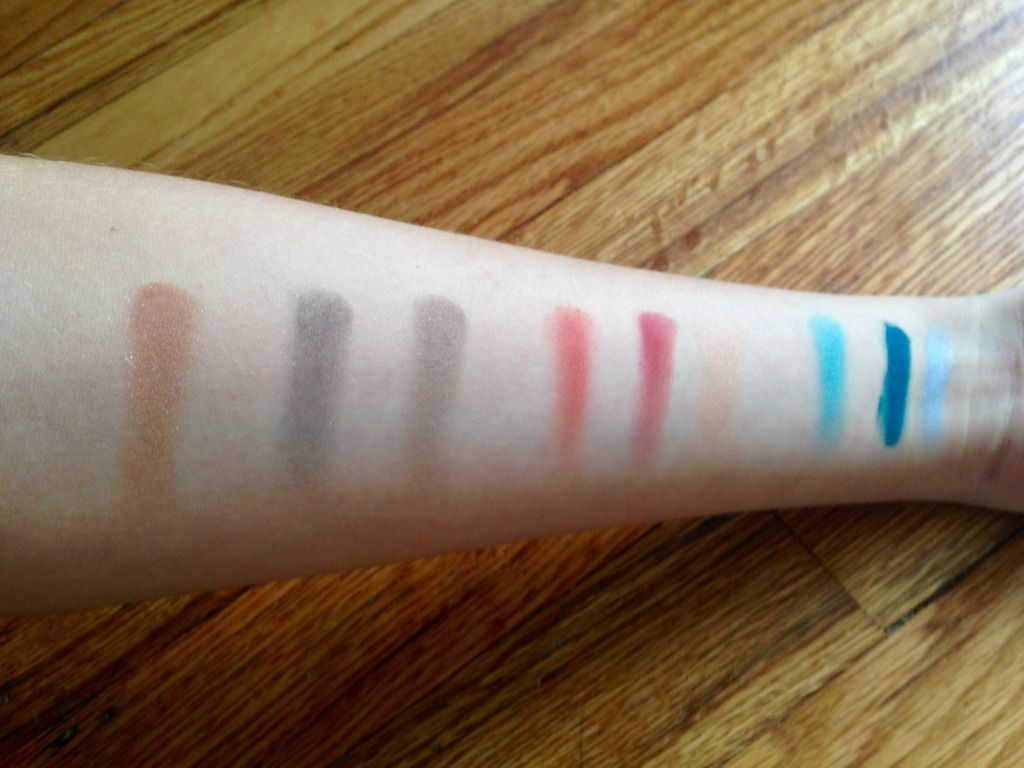 Here is my full arm of swatches (looks a little funny, doesn't it?). The texture of all shadows is very velvety and smooth, which is great when you're using a brush or applicator instead of your fingers. I will say that I used a bit more pressure than usual because I'm quite used to elf brand eyeshadows and they do go on much lighter than their colors appear. You really want to pack on the color if you're looking for a stand out look that will last longer throughout the day.
Wingapo was the only color that came off super-duper light and is near impossible to see on the camera in natural sunlight. All the others had decent coverage, although I recommend using a primer beforehand so they stick to your eyelid better.
The palette is also a mixture of shimmery and matte shadows. Ripples, Sycamore, and Willow have the most shimmer while Riverbend, Warrior, Headstrong, Heroine are the most matte out of the beauty book.
From left: Always Be With You, New World Smolder
The blush, Sun Sweet Berry, is a darker rose color in the palette and stays rather true to its color even on skin. The bronzer, Voices of the Mountain, is a lighter brown that is also true to its color and both of them are matte, which is nice because elf can go overboard on the shimmer sometimes and your makeup can look too "daughter playing with mom's makeup," you know?
Finally, the lipgloss, Always Be With You, and the eyeliner in a black are both great quality. The lipgloss isn't too sticky and has a shimmery pink coloration outside of the tube that is great for the summertime. The eyeliner is very soft and a true black. Sometimes elf will say something is black when in reality it's just a darker gray.
As for the overall quality of the Pocahontas beauty book, I think it's an improvement from other Disney makeup collections in the past. I've heard less than stellar stories about the Villains collection, for example, and the Ariel one as well.
If you're looking to try out more bohemian looks with a mixture of matte and shimmer, I would recommend giving the Pocahontas beauty book a try! It has a little bit of everything for both a night and day look. Just know that with elf products, their colors do come off lighter on the skin and might need a boost from a primer or base foundation.
Pocahontas Illuminating Sticks
Contouring is becoming this big time trend in the beauty world, although it's not something I've actively tried myself. I'm already petite as is, so contouring my face to the max would probably make me look like Skeletor or something. But I do like using illuminating sticks as a light bronzer during days when I look especially tired on top of a BB cream.
There are three different shades of bronze in the Pocahontas contouring stick line although they don't really have special names. I picked one that looked darker in the packaging but is much lighter on the skin, like a shimmery golden champagne color. The packaging isn't the best, especially compared to the beauty books, and you actually don't get a lot of product but this is normal for most elf items.
If you're super pale, I wouldn't advise using the illuminating sticks as is as. You can see why with my own skin. It would be best to build up a base tan or use a powder bronzer beforehand. But, the stick would also be good for eye looks as an eyeshadow base.
Would I recommend the illuminizer sticks? Not really, especially because elf carries better options in their regular lines. For example, they have a great dupe for the NARS Orgasm and Deep Throat blushes for only $3.00 as part of their
Studio line
. Use that with a contouring face brush and you're good. Or, if you want something non-elf, I also recommend the
NYX Wonder Stick
.
But one successful purchase out of two ain't bad! Especially considering this is brand new makeup I wasn't able to swatch at the store beforehand.
Anyway, I'll get off my soapbox and let you decide if the Pocahontas makeup collection is right for you. What do you think of the colors? Have you picked up anything from this makeup line yet?
Disclaimer: I was not contacted to review these items and bought them with my own money. All opinions are my own.