Psst, hey, today is May The 4th or also better known as Star Wars Day! This is a day to celebrate everything Star Wars and this week on the blog is dedicated to the awesome universe that we've all grown to love.
So, what makes Star Wars so great anyway? How has it lasted and grown into this HUGE fandom compared to other fandoms out there? I decided to ask fellow geeks how that galaxy far, far away has influenced their own lives. Check it out below.
Charlotte B
"

My birthday may the 4th :D" (Happy birthday, Charlotte!)
Stephanie Young

"
I'd say Star Wars has definitely affected my life, in a positive way. Mostly because it helped get me interested in space, the future, technology and stuff when I was a kid. I really doubt I'd be as interested in the STEM fields these days if it weren't for the initial push of 'cool space fights and galaxy things' when I was a kid.
It also helped that Leia was in it, for me. Having a girl in a movie that kicked ass was awesome. She was a fighter, a rebel, smart; everything I needed in a role model. I know everyone completely sexualizes her, which definitely bothers me, but I didn't see that as a kid. I just saw a kickass lady fighting the power.
In fact, having an interest in Star Wars helped me meet this community here. We're all a bunch of lady geeks, who all like the same sorts of things. We all respect each other, and enjoy each others interests. It's nice.
Without an interest in Star Wars, I probably wouldn't know over half the people on the internet that I know.
I'd actually be a completely different person, I think. For the worse."
Erinn Leach

"
Star Wars has been prevalent in my life since I was a child. My dad was a HUGE fan and instilled that joy into my own life. I was meant to be a geek, and with Star Wars as the first thing I got into, I knew life was going to be great! Star wars has given me a deep connection with my father, bonding over trips to Star Wars Conventions, and him helping me start my own collection of figurines and posters. Star Wars also taught me patience, and how to deal with loss. It geared me into a life of art. Watching videos on how they came up with characters pushed me to pursue a life drawing the infinite ideas I had on the inside. I believe Luke's personality inspired my own growth in confidence, and I couldn't have imagined the opportunities I now get to take part in because of trusting my instincts."
Ravanel Griffon

"
In recent years, my fandom of Star Wars has enthused me to play Star Wars: The Old Republic, an online multiplayer game where you can play a character (such as a jedi, smuggler, bounty hunter or sith) in a virtual world together with other players. I've met lots of other Star Wars fans through it, some of which have become my friends. I hope to meet some of them in the offline world when I visit the UK coming late summer. So I think for me Star Wars has been (and still is) a way to connect to people with the same hobbies and interests."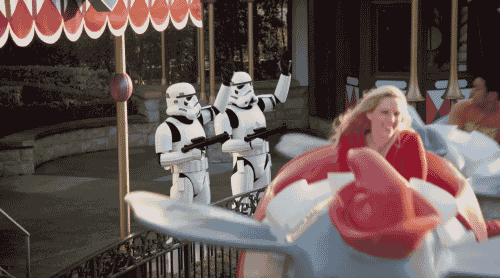 Star Wars is more than just another fandom to go fangirl crazy over and it is more than just movies and merchandise. The characters have helped millions of fans across the world by being someone they can look up to or even aspire to be like. What kid didn't want to be as cool as Han or what little girl didn't want to be as strong and independent as Leia or even Padme? Yoda taught us patience and pushing our limits while we rooted for Luke as the underdog. And not to mention the awesome characters in Clone Wars or even in the newest Star Wars Rebels shows.
The themes in Star Wars are also timeless, regardless how you might feel about the new trilogy. These are characters overcoming adversity and that is something we all can get behind. And through that, there is a huge community full of great people. And space explosions, lots and lots of sweet space explosions.
Personally? Star Wars helped me bond with my step-dad when he first started dating my mom. He took me to see Phantom Menace to a packed-to-the-brim movie theatre (people were sitting in the aisles!) and that beginning sequence with the Star Wars rolling text immediately sucked me into a fandom I still enjoy. It also opened the door to other science fiction and science in general. Now I can't imagine not being a fan of the series!
How has Star Wars affected you? And oh, happy May The 4th!