I watch quite a bit of television. Well, that is to say I have the television on a lot for background noise but I also like binging through seasons worth of series and then wonder why I barely get any sleep at night. This week's 5 Fandom Friday, hosted by the ladies of
Nerdy Girlie
and
Super Space Chick
, is all about binge-worthy shows--right up my alley.
1. 30 Rock
Man, this show! I probably go through the entire series once a year and then binge a season or two in between. So many quotable lines, such great characters, and it's Tina Fey! I love how there's some hints in Unbreakable Kimmy Schmidt that they are in the same universe, too. I like to think Liz Lemon and Kimmy would have an interesting conversation on the subway.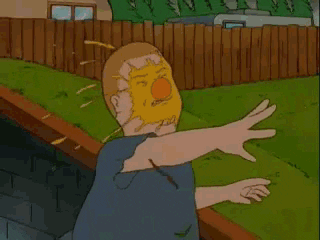 2. King of the Hill
This is another show I quote a lot in real life, just like 30 Rock. It is also another show that I'll watch through the entirety of at least once a year. It is crazy how some parts of Texas (at least the parts I've been to) resemble so much of the characters in KOTH, especially Boomhauer.
3. Bob's Burgers
Who can hate Bob's Burgers? Trick question, nobody can! This show is like an entire spirit animal for me and I can just watch episode after episode of previous seasons without getting tired of it. In fact, I think Bob's Burgers ages like a fine wine with its humor.
4. Black Books
Another amazing British comedy that is absolutely hilarious if you prefer darker humor. Also, I absolutely love Dylan Moran and his stand-up as well as all the shows and movies he's in. If you like the IT Crowd and Mighty Boosh, give Black Books a watch!
5. Steven Universe
This show, guys....Such an amazing series to be on a major network. This was such a good move on Cartoon Network's part and this is a show people of all ages can enjoy. Also, the theme song (and rest of the songs in the show) are super catchy and you'll be humming them to yourself in no time.
Honorable Mentions:
Cowboy Bebop
The X-Files
Home Movies