Movies and television are definitely a weak spot for me. Much like music, I like all sorts of film: cheesy romantic comedies, serious dramas, foreign films--you name it. Having to pick one genre is just near impossible.
But for today, I'm sharing my comfort films. These are the movies I watch when I'm feeling down, frustrated, or just want to escape life for a little bit. Enjoy!
1. The Fifth Element
Although I just said I love all sorts of films, I will say that 90s sci-fi is one of my favorite types. Fifth Element especially! I've been a fan of the movie since it pretty much came out and I watch it multiple times a year. And quote it 24/7 in real life.
2. Legend
There is also room in my heart for classic 1980s fantasy films like Legend. Starring a rather young Tom Cruise (and a Tim Curry), this Ridley Scott movie is all sorts of weird and fantasy gothic and cheesy fantasy. Give it a watch sometime!
3. Aladdin
Pretty sure many of you already know Aladdin is my TOP Disney film of all time. I've been obsessed with it since it was released and I'll be a die hard fan until I die! :P
4. Mad Max: Beyond Thunderdome
Okay, ONE more genre I totally just love for its ridiculousness: over-the-top post apocalyptic. Fallout is a great example of this in the video-game realm and then there's Mad Max, which inspired some elements of Fallout. However, in the entire history of Mad Max, Thunderdome is my favorite just because of TWO MEN ENTER, ONE MAN LEAVE! Can't wait for the new one with Tom Hardy, too.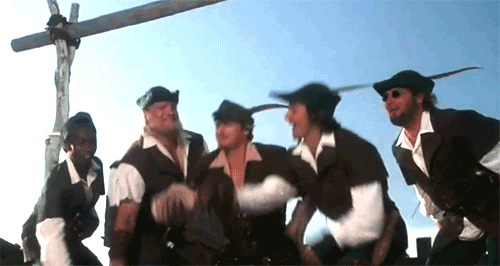 5. Robin Hood: Men In Tights
Who doesn't love a good Mel Brooks movie? Men In Tights was definitely my generation's Brooks film to obsess over and much like Fifth Element, I quote this movie all the time. Plus, watching the Kevin Costner one that Brooks was taking jabs at and Robin Hood: Men In Tights back-to-back is always a fun time.
What are some of your comfort movies? Don't forget to check out other posts in the Fandom Friday link-up by
Megan
and
Kristin
!