One item from my
Influenster
VoxBox I was really excited to get was the ScandalEyes mascara from Rimmel London, mostly because retro makeup looks are always so cool. The ScandalEyes has a big time mod/1960s theme going on, but I wanted to do something a little different to go along with the nerd girl theme of the blog.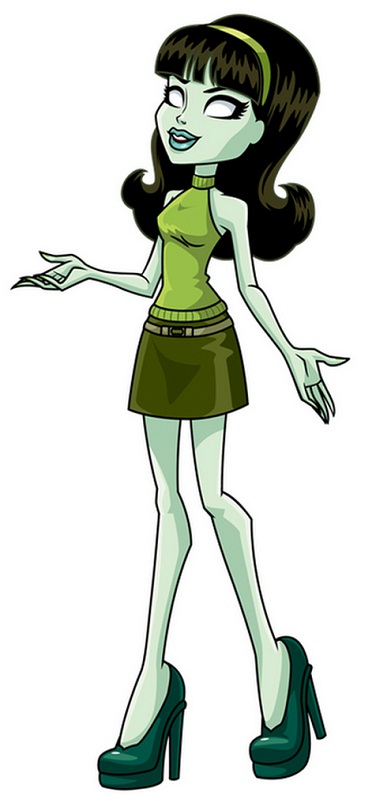 Monster High is a popular line of dolls and a television show which features young female characters who are daughters of famous monsters and popular horror tropes. Scarah Screams is a banshee and has this really cute 1960s outfit and style that is perfect to inspire today's Get The Look tutorial. Let's get started!
Prep your face.
Scarah is on the super pale side, so I doubled up on my foundation. I used the mousse foundation first and then topped it off with the Pur Minerals powder for a matte, ghostly look. Then I used a very light blush from ELF to give it a bit more of a paleness.
Play up your eyes, Barbie-fy your lips.
I numbered the colors that I used from first to last. You will want to find a medium shade of green (#1), matte or shimmery, and then a very light shimmery green color (#2), a taupe or brownish color for your crease (#3) and then a light beige for your brow bone and inner corner (#4). This particular palette is from ELF.

Next was the pencil eyeliner for the bottom of the eye and then liquid eyeliner for the top and many coats of the ScandalEyes mascara for huge lashes! Remember to also coat your bottom lashes for a wide-eyed look (it was also popular to do during the mod scene!).

Finally, I put on some pink lipstick since Scarah's doll has bright pink Barbie lips. I used a combination of both a dusty pink from NYX and a random bright pink lip color on top it.


As for the mascara itself, I really like the ScandalEyes. There are a lot of mascaras out there all claiming to do the same thing: make your eyes look big and eyelashes full. Some of them work and some of them just flat out do nothing but make your lashes feel sticky. ScandalEyes strikes a perfect balance of feeling light on your lashes while also really making them pop.
It has this oblong-shaped wand that even gets all the little baby lashes without being dangerously close to taking your eyeball out. And it doesn't clump as bad as the others (like the Rocket mascara from Maybelline, for example). Yay for great mascara!
And there you have it, a simple but fun and flirty look inspired by Scarah Screams from Monster High! Who is your favorite from the series?
Disclaimer: I was sent the ScandalEyes Retro Glam mascara by Influenster for review purposes but all opinions in this post are my own.