Life lately has been mehtacular but I decided to take some advice from Leslie Knope (of Parks & Recreation fame, of course) and made this guide for others who might be having a sucky time right now, too.
So, a little bit of insight: I've been on the hunt for a job in digital marketing and advertising. Don't get me wrong, I love my current job over at
Coupon Wallet
, but as a very small and pre-Seed start-up, money is tight and projects can be slow. I'd like to pick up another job in the same field in order to save up money, move, and so I can take a break from freelancing for a bit.
I've had a couple interviews with larger companies in the past few weeks. One of them had me work directly with one of their clients, American Eagle, and then another was more of a traditional interview. Unfortunately, I didn't get either job (while hearing nothing from others I applied to) and have been in a funk lately.
On top of these winter blues, it hasn't been fun. But, I'm not the type to just give up so easily! And then I thought up of this post to help others who might also be experiencing some case of the blahs.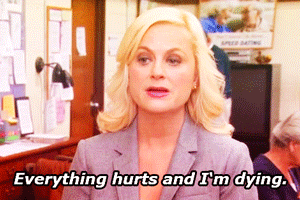 You don't need to deny your true feelings.
Right, everything is sucky right now. You just want to stuff your face with half-off Valentine's Day candy and watch Friends re-runs on TV. You become a hermit but at least you have some comfy pajamas and be surrounded by your cats, right? Whoa, this got a little too personal.

Leslie Knope in later seasons of Parks & Rec got her dream of becoming a councilwoman, really helping out the strange town of Pawnee. But then, the entire town wanted her recalled and successfully did so. Ugh, talk about a bad day.
She didn't try to bottle up or hide those emotions, she let it all out. Have you been bottling up something recently?
It's okay to have a crazy moment.
At this point, you may want to go a little crazy.

After her recall, Leslie wasn't about to just be taken down like that. She wanted to do a re-election campaign, much to the protest of, well, all of her friends. She tried desperately to get her seat back, to find purpose, and to generally be of help to everyone around her after a brief stint of being a shut-in.

Unfortunately, this only made things worse and made her go a teensy bit crazy before everything got better.

In a guide to life, I think it's perfectly normal to have a crazy moment, though. Get all of those emotions out and process them. Life isn't a smooth ride by any means and we need to be able to cope with these twists, turns, and speed bumps (or careening cliffs).
Remember to be your own cheerleader.
All right, you've had a moment of crazy. You've had a good cry, a good shout match while playing a shoot-'em-up game, or simply had a day to yourself. Now it's time to be your own cheerleader.

Leslie is a great character because of her positivity and can-do attitude--she wants to get things done, usually at 1000% instead of the paltry 100%. And because of that, she inspires those around her to do the same and has a great network of supportive friends, but, all of that has to come from self-love. She loves herself and knows things will get better.

So, life is sucky right now but at least you can hang in there and still be an awesome person both for yourself and those around you!
Move forward and cherish the small things.
It's time to get back on that proverbial horse and try again!
Move forward. Progress. But along the way, remember the small things that help you get by. A night of binge Netflix, some lunch with friends, or even maybe a big ol' plate of waffles--whatever helps to get you through those low points and back on top.

Sure, Leslie got recalled and in previous seasons had to deal with her dream park project always being rejected or somehow impeded. However, through these moments, she always kept true to her list of priorities. She was able to move forward. Isn't that something we all can do for ourselves?

Hang in there, guys! :)